June Boudoir-Prep Package Deal
I have a treat for you ladies! I'm thrilled to announce my partnership with Kiehl's Michigan Avenue to offer you the ultimate boudoir-prep package deal. When you book your June photoshoot, you'll receive an invitation to attend an exclusive skincare masterclass at Kiehl's Michigan Ave co-hosted by the Kiehl's Michigan Ave team and my trusted intern Xavy Perez on May 19th! Kiehl's is a renowned skincare line specializing in crafting personalized skincare routines with individual needs using sustainably sourced and 95% naturally derived products.
This class will assist you in the preliminary stages of your pampering experience through skincare basics, tips and tricks, one on one seated consultations, and other exclusive insights that'll help prep you for your special day!
To RSVP for this class, you must book your June session and commit to a $75 purchase at the event by May 17th. With this, not only will you walk away with amazing new products, but this purchase also includes extended shooting time with me featuring an additional outfit change as well as coupons to partnering stores, free samples, tasty eats, and more!
Again, you will also receive a free outfit change and an extra 30 minutes of photography time at your boudoir shoot if you book with me in June. This is a $75 value on its own. All you need to do is put a 25% deposit down today!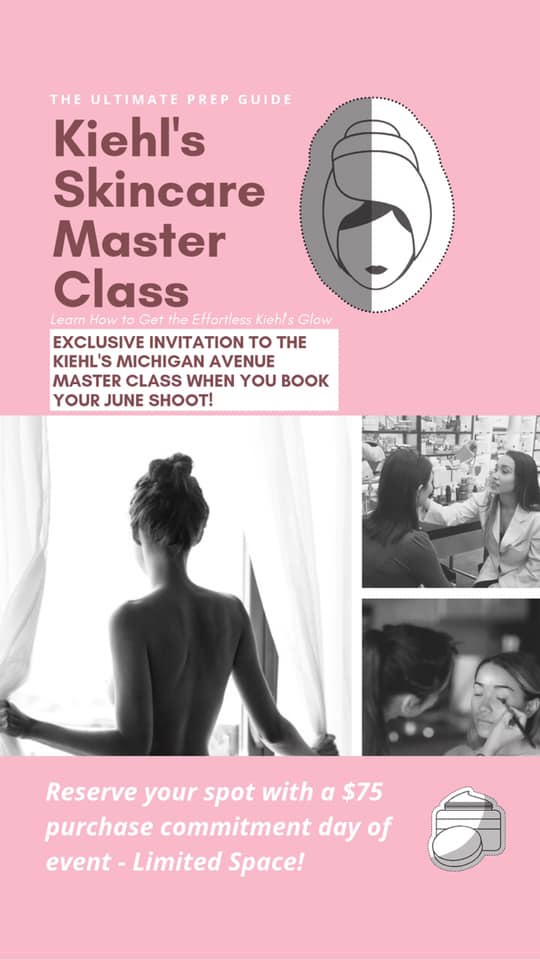 I hope you'll take advantage of this limited time offer boudoir-prep package deal and treat yourself to the most self-loving and empowering experience you deserve. This event is a first come first serve basis and has limited seating so don't miss out, book your shoot today! Visit https://boudoir.egualdoniphotography.com for booking inquiry.